Vendors!...Tired of hangin' out at the wrong art and craft shows in Arkansas?
Subscribe to Art & Craft Show Yellow Pages ™ in Arkansas, and you'll have the best, most descriptive regional show listing directory in Arkansas.
We currently cover the entire East Coast and surrounding States ( AL, AK, AZ, AR, CA, CO, CT, DC, DE, FL, GA, HI, ID, IL, ID, IA, KS, KY, LA, ME, MD, MA, MI, MN, MI, MO, MT, NE, NV, NH, NJ, NM, NY, NC, ND, OH, OK, OR, PA, RI, SC, SD, TN, TX, UT, VT, VA, WA, WV, WI, WY,).
Event Dates
City
Name of Event
2/26-2/28
LITTLE ROCK, AR
Flower & Garden Show 19th
3/05-3/06
TEXARKANA, AR
Miller-Bowie Quilt Show 19th
3/12-3/13
MOUNTAIN VIEW, AR
Handpicked & Handmade Craft Show
3/12-3/13
CAMDEN, AR
Camden Daffodil Festival 17th
3/19-3/21
WASHINGTON, AR
Jonquil Festival 42nd
3/19-3/20
MOUNTAIN HOME, AR
Spring Fling Extravaganza 3rd
4/16-4/17
MOUNTAIN VIEW, AR
Arkansas Folk Festival 47th
4/23-4/25
SILOAM SPRINGS, AR
Dogwood Festival 36th
4/23-4/25
HEBER SPRINGS, AR
Springfest 2010 (22nd)
4/23-4/24
HELENA, AR
Wild Hog Music Festival
4/24
BERRYVILLE, AR
Flower, Farm & Garden Show & Sale
4/30-5/02
CONWAY, AR
Toad Suck Daze 29th / Toad Market
4/30-5/09
FORT SMITH, AR
Arts and Craft Show
5/01-5/30
EUREKA SPRINGS, AR
May Festival of the Arts
5/07-5/08
SPRINGDALE, AR
Spring Craft Fest
5/07-5/09
ROGERS, AR
Antique & Craft Show
5/07-5/09
BENTONVILLE, AR
Spring Arts & Craft Fair
5/08-5/09
VAN BUREN, AR
Old Timer's Day Festival
5/14-5/15
DERMOTT, AR
Crawfish Festival 27th
5/14-5/15
MAGNOLIA, AR
Magnolia Blossom Festival 22nd
5/14-5/15
PARAGOULD, AR
Loose Caboose Festival 21st
5/14-5/15
HARRISON, AR
Crawdad Days Festival 20th
5/21-5/23
LITTLE ROCK, AR
Art on the River
5/22-5/29
GILLETT, AR
Gillett Heritage Days Festival 2nd
5/27-5/30
AUGUSTA, AR
Augusta Days 16th
5/28-5/30
LITTLE ROCK, AR
Riverfest 2010 32nd
5/28-5/29
MOUNT IDA, AR
Good Ole Days Festival & Antique Car show
5/29
BELLA VISTA, AR
Art on the Creek 2nd
6/03-6/06
OZARK, AR
2010 Wakarusa Festival
6/05-6/12
WARREN, AR
Pink Tomato Festival 53rd
6/25-6/26
FORT SMITH, AR
Riverfront Blues Festival 2010
6/25-6/26
PARIS, AR
International Buterfly Festival 14th
6/26
HATFIELD, AR
Hatfield's Jubilee in June 12th
7/03
FORUM, AR
1st Annual Dog Daze Festival
7/30-7/31
ALTUS, AR
Grape Festival 27th
8/12-8/14
HOPE, AR
Watermelon Festival
8/21-8/22
HOT SPRINGS, AR
Gem,Jewelry & Bead Show
9/10-9/12
ROGERS, AR
Pinnacle Hills Arts & Food Festival
9/10-9/11
MENA, AR
Mountainfest 22nd
9/17-9/18
MAYNARD, AR
Pioneer Days
10/01-10/03
LINCOLN, AR
Apple Festival
10/01-10/03
HOT SPRINGS, AR
Arts & Crafts Fair 42nd
10/01-10/02
SHERIDAN, AR
Timberfest 26th
10/02
PARIS, AR
Frontier Day Celebration 31st
10/02
JACKSONVILLE, AR
Wing Ding Festival 12th
10/02
WALDRON, AR
PTO Fall Festival
10/07-10/10
MOUNT IDA, AR
Quiltz, Craftz & Gem & Mineral Show 27th
10/07-10/09
HELENA, AR
Blues & Heritage Festival
10/08-10/09
YELLVILLE, AR
Turkey Trot Festival 65th
10/08-10/10
MOUNT IDA, AR
Quartz, Quiltz & Craftz Festival 25th
10/08-10/09
MONTICELLO, AR
Rhythm & Roots Festival 13th
10/08-10/17
LITTLE ROCK, AR
Arkansas State Fair
10/09-10/10
VAN BUREN, AR
Fall Festival
10/09-10/10
DEQUEEN, AR
Hoo-Rah Days Festival
10/09
CABOT, AR
Cabotfest
10/09
CROSSETT, AR
Wiggins Cabin Festival 32nd
10/09
FAIRFIELD BAY, AR
Oktoberfest
10/09
CRAWFORDSVILLE, AR
Hometown Harvest Festival
10/13-10/17
BENTONVILLE, AR
Fall Arts & Craft Fair
10/14-10/16
BELLA VISTA, AR
Bella Vista Arts & Crafts Festival 42nd
10/14-10/17
ROGERS, AR
Arts & Crafts Fair
10/14-10/16
OZARK, AR
Harvest Music Festival
10/15-10/16
ROGERS, AR
Fall Craft Fest
10/15-10/16
SPRINGDALE, AR
Fall Craft Fest
10/15-10/17
LITTLE ROCK, AR
Sculpture at the River Market 4th
10/15-10/16
DARDANELLE, AR
Mount Nebo Chicken Fry 62nd
10/15-10/16
LAKE VILLAGE, AR
Lake Chicot Fall Fest 14th
10/16
OZARK, AR
Old Fashioned Square Gathering 38th
10/22-10/24
HOT SPRINGS, AR
Gem,Jewelry & Bead Show
10/29-10/30
MOUNTAIN VIEW, AR
Bean Fest 28th
11/05-11/06
RUSSELLVILLE, AR
Arts & Crafts Fair 40th
11/06-11/07
FAYETTEVILLE, AR
NWA Renaissance Faire 5th
11/12-11/14
JONESBORO, AR
Lil Bita Christmas Arts & Craft Show
11/19-11/20
JACKSONVILLE, AR
Holiday Craft and Gift Sale 33rd
12/03-12/05
LITTLE ROCK, AR
Christmas Showcase
Nationwide Magazine Coverage
Licensed by Craftmaster News ™
In business for over 30yrs!
We constantly update our Arkansas event database on a daily basis and with verified information only! Not with approximate and incomplete information like others. We do this with pride and respect towards our subscribers... so feel free to give us a Call:

Business Hours:
M-F 10am-5pm PST
Toll Free: (800)871-2341 or Sign up online Today!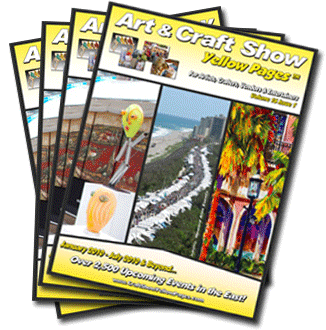 Join NOW! and get instant access to the most complete verified Arkansas event information found anywhere. We give you all details for each art and craft event in Arkansas such as event attendance, promoter contact information, cost of booth, size of booth, what you can sell at each event, we also tell you if its a juried or non juried event, and much more. Also, as an active member you can take advantage of our optional printed updates! Each issue of our art and craft show listing publication also lists events up to a year in advance, which is essential in helping you meet application deadlines and book your show dates early. So if you plan on selling at art and craft shows in Arkansas, street fairs and festivals in Arkansas, home and garden shows in Arkansas, trade shows in Arkansas, county and state fairs in Arkansas, music festivals in Arkansas, farmers markets in Arkansas and need a printed update just call us and we will ship you the most current up-to-date Arkansas event information for just $15 dollars each.
Request your FREE 7 day online trial Today!
See why we are the best source of verified event listings for vendors in Arkansas.
Complete the short form below and one of our customer service representatives will contact you shortly to provide access and assist you on how to use and find great events to sell your art and crafts, promotional products or service in Arkansas! -Find where the shows are in Arkansas! The easy and efficient way to grow your business!